Posts for: July, 2017
By Thomas Leatherman, DDS
July 18, 2017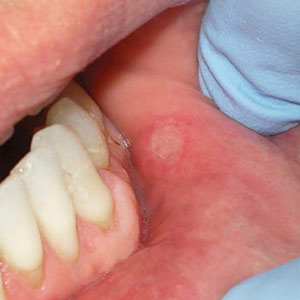 We've all had them — tiny sores that pop up seemingly out of nowhere under the tongue or the inside of the cheek. They're named aphthous ulcers, but are more commonly known as canker sores. For some people, they can be a recurring irritation.
Round with a yellow-gray center surrounded by reddened skin, aphthous ulcers seem to coincide with periods of anxiety or stress, or as a result of some minor trauma. Many people will feel a tingling or painful sensation a few hours or days before the ulcers appear. Once they appear they usually persist for a week to ten days before finally drying and healing. In the meantime they can be painful, especially while eating or drinking.
One form known as recurrent aphthous stomatitis (RAS) affects about a quarter of the population with outbreaks of multiple ulcers that occur regularly. RAS ulcers are usually one centimeter or more in size — the larger the sore the more painful they tend to be.
There are ways to ease the discomfort of an ulcer outbreak and help hasten their healing. A number of over-the-counter products can be used in minor cases to numb the area temporarily and cover it to facilitate healing. We can also apply steroids or inject other medications for more severe cases. You may also find curbing your eating of certain foods like tomato sauce, citrus or spicy dishes can help.
For the most part aphthous ulcers aren't dangerous. In some situations, though, you should seek dental or medical evaluation: a sore that doesn't heal within two weeks; increases in severity, frequency or duration of ulcers; or when you don't seem to ever be without an ulcer in your mouth. We may need to perform tests, including tissue biopsy, to make sure there aren't any underlying systemic conditions causing the ulcers.
More than likely, though, you'll only need relief from the aggravation caused by aphthous ulcers. Among the many remedies, there's one right for you.
If you would like more information on aphthous ulcers or other mouth sores, please contact us or schedule an appointment for a consultation. You can also learn more about this topic by reading the Dear Doctor magazine article "Mouth Sores."
By Thomas Leatherman, DDS
July 03, 2017
Everyone knows that in the game of football, quarterbacks are looked up to as team leaders. That's why we're so pleased to see some NFL QB's setting great examples of… wait for it… excellent oral hygiene.
First, at the 2016 season opener against the Broncos, Cam Newton of the Carolina Panthers was spotted on the bench; in his hands was a strand of dental floss. In between plays, the 2105 MVP was observed giving his hard-to-reach tooth surfaces a good cleaning with the floss.
Later, Buffalo Bills QB Tyrod Taylor was seen on the sideline of a game against the 49ers — with a bottle of mouthwash. Taylor took a swig, swished it around his mouth for a minute, and spit it out. Was he trying to make his breath fresher in the huddle when he called out plays?
Maybe… but in fact, a good mouthrinse can be much more than a short-lived breath freshener.
Cosmetic rinses can leave your breath with a minty taste or pleasant smell — but the sensation is only temporary. And while there's nothing wrong with having good-smelling breath, using a cosmetic mouthwash doesn't improve your oral hygiene — in fact, it can actually mask odors that may indicate a problem, such as tooth decay or gum disease.
Using a therapeutic mouthrinse, however, can actually enhance your oral health. Many commonly available therapeutic rinses contain anti-cariogenic (cavity-fighting) ingredients, such as fluoride; these can help prevent tooth decay and cavity formation by strengthening tooth enamel. Others contain antibacterial ingredients; these can help control the harmful oral bacteria found in plaque — the sticky film that can build up on your teeth in between cleanings. Some antibacterial mouthrinses are available over-the-counter, while others are prescription-only. When used along with brushing and flossing, they can reduce gum disease (gingivitis) and promote good oral health.
So why did Taylor rinse? His coach Rex Ryan later explained that he was cleaning out his mouth after a hard hit, which may have caused some bleeding. Ryan also noted, "He [Taylor] does have the best smelling breath in the league for any quarterback." The coach didn't explain how he knows that — but never mind. The takeaway is that a cosmetic rinse may be OK for a quick fix — but when it comes to good oral hygiene, using a therapeutic mouthrinse as a part of your daily routine (along with flossing and brushing) can really step up your game.
If you would like more information about mouthrinses and oral hygiene, contact us or schedule a consultation.