Posts for: April, 2018
By Thomas Leatherman, DDS
April 25, 2018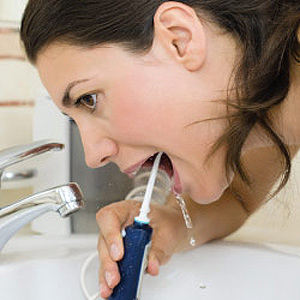 A critical part of effective, daily oral hygiene, flossing removes bacterial plaque from between teeth that can't be accessed with brushing. Unfortunately, it's often neglected — string flossing requires a bit more dexterity than brushing and can be difficult to do properly.
It can be even more difficult for people with implants or who wear orthodontic appliances. For brace wearers in particular, getting access to areas between teeth with string floss is next to impossible; the metal brackets and tension wire also have a tendency to catch and retain food debris that's difficult to remove with brushing alone.
Water flossing, using a device called an oral irrigator, is an effective alternative that addresses many of these difficulties. First available for home use in the 1960s, an oral irrigator delivers pulsating water at high pressure through a handheld applicator that forcefully flushes material from between teeth.
There's no question that string flossing is effective in plaque removal between teeth — but what about oral irrigators? A 2008 study looked at a group of orthodontic patients with braces who used oral irrigators and compared them with a similar group that only brushed. The study found that five times as much plaque was removed in the group using the oral irrigators as opposed to the group only brushing.
Oral irrigators may also be effective for people who've developed periodontal (gum) disease. In fact, oral irrigators coupled with ultra-sound devices are routinely used by dental hygienists to remove plaque and calculus (hardened plaque deposits) in periodontal patients. As with regular oral hygiene, though, it's important for patients with gum disease to include water flossing with daily brushing (at least twice a day) and regular cleaning sessions at the dentist to ensure removal of all plaque and calculus.
If you're interested in using an oral irrigator, be sure to consult with us at your next appointment. Not only can we recommend features to look for in equipment, but we can also instruct you on the techniques to make water flossing an effective plaque remover.
If you would like more information on water flossing, please contact us or schedule an appointment for a consultation. You can also learn more about this topic by reading the Dear Doctor magazine article "Cleaning Between Your Teeth."
By Thomas Leatherman, DDS
April 15, 2018
Not long ago the dental bridge was the alternative treatment of choice to partial dentures for restoring lost teeth. Over the last few decades, however, dental implants have nudged bridgework out of this premier spot.
That doesn't mean, though, that bridgework has gone the way of the horse and buggy. In fact, it may still be a solid restorative alternative to partial dentures for certain people.
A traditional bridge consists of a series of porcelain crowns affixed to each other like pickets in a fence. The end crowns are fitted onto the teeth on either side of the empty tooth space; known as abutment teeth, they support the bridge. The crowns in the middle, known as pontics (from the French for "bridge"), replace the teeth that have been lost.
Bridges have been an effective and cosmetically pleasing method for tooth replacement for nearly a century. To achieve those results, though, a good portion of the abutment teeth's structure must be removed to accommodate the crowns. This permanently alters these teeth, so they'll require a restoration from that point on.
Dental implants, on the other hand, can be installed in the missing space without impacting any neighboring teeth. What's more, implants provide greater support to the underlying bone than can be achieved with bridgework.
But not everyone is a viable candidate for implants, and ironically the reason most often has to do with the bone. If a patient has suffered significant bone volume loss, either because of disease or the long-term absence of the natural teeth, there may not be enough bone to properly support an implant. Unless we can adequately restore this lost bone volume through grafting, we'll need to consider another type of restoration.
That's where bridgework could be a viable option for patients in this or similar situations. With continuing advances in materials and new applications, the traditional bridge still remains an effective and important means to restore a smile marred by missing teeth.
If you would like more information on dental restoration options, please contact us or schedule an appointment for a consultation. You can also learn more about this topic by reading the Dear Doctor magazine article "Crowns & Bridgework."