Posts for: January, 2019
By Thomas Leatherman, DDS
January 20, 2019
Like other healthcare providers, your dentist keeps records of your ongoing care. These include not only their written notes but also x-ray imaging, frequency of visits and cleanings, and any medical information that could affect your care. What's more, they have a legal obligation to maintain these records.
Your dental records help guide decisions about your care. In that regard, you should consider something else—you may need to change providers: your dentist retires or you move; your dentist isn't in your new insurance network; or, unfortunately, you have an "irreconcilable" difference with your provider.
If that happens, it's very important your dental records find their way to your new provider. Here are 3 reasons why.
Your individual dental history. Each person's dental situation and needs are unique. Your past records help clue in your new dentist about your past history and current needs, which will help guide how they treat you.
Time and money. Your dental records contain x-rays or other diagnostic information about your oral condition, including preparations for any upcoming dental work. If you change dentists before completing that treatment, your new dentist may have to start over with new diagnostic tests if they don't have this previous data. It could cost you more money and make you wait longer for a needed procedure.
Coordinating dental care with your general health. Your mouth isn't isolated from the rest of your body, and some dental treatment measures could affect other health conditions (and vice-versa). If your new dentist knows other health issues you may have from your previous records, it can help ensure you're getting dental treatment appropriate to your overall health.
For the most streamlined transition between providers, it's important your dental records follow you. You're entitled to having those records transferred, and, if you're uncomfortable asking yourself, your new provider can obtain them for you. Just be sure to ask.
If you would like more information on your rights regarding your dental care records, please contact us or schedule an appointment for a consultation. You can also learn more about this topic by reading the Dear Doctor magazine article "Why Your Dental Records Should Follow You."
By Thomas Leatherman, DDS
January 10, 2019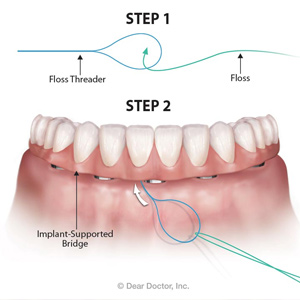 Implant-supported fixed bridges are growing in popularity because they offer superior support to traditional bridges or dentures. They can also improve bone health thanks to the affinity between bone cells and the implants' titanium posts.
Even so, you'll still need to stay alert to the threat of periodontal (gum) disease. This bacterial infection usually triggered by dental plaque could ultimately infect the underlying bone and cause it to deteriorate. As a result the implants could loosen and cause you to lose your bridgework.
To avoid this you'll need to be as diligent with removing plaque from around your implants as you would with natural teeth. The best means for doing this is to floss around each implant post between the bridgework and the natural gums.
This type of flossing is quite different than with natural teeth where you work the floss in between each tooth. With your bridgework you'll need to thread the floss between it and the gums with the help of a floss threader, a small handheld device with a loop on one end and a stiff flat edge on the other.
To use it you'll first pull off about 18" of dental floss and thread it through the loop. You'll then gently work the sharper end between the gums and bridge from the cheek side toward the tongue. Once through to the tongue side, you'll hold one end of the floss and pull the floss threader away with the other until the floss is now underneath the bridge.
You'll then loop each end of the floss around your fingers on each hand and work the floss up and down the sides of the nearest tooth or implant. You'll then release one hand from the floss and pull the floss out from beneath the bridge. Rethread it in the threader and move to the next section of the bridge and clean those implants.
You can also use other methods like specialized floss with stiffened ends for threading, an oral irrigator (or "water flosser") that emits a pressurized spray of water to loosen plaque, or an interproximal brush that can reach into narrow spaces. If you choose an interproximal brush, however, be sure it's not made with metal wire, which can scratch the implant and create microscopic crevices for plaque.
Use the method you and your dentist think best to keep your implants plaque-free. Doing so will help reduce your risk of a gum infection that could endanger your implant-supported bridgework.
If you would like more information on implant-supported bridges, please contact us or schedule an appointment for a consultation. You can also learn more about this topic by reading the Dear Doctor magazine article "Oral Hygiene for Fixed Bridgework."