Posts for tag: jaw pain
By Thomas Leatherman, DDS
October 02, 2018
If you have chronic jaw pain, you know how difficult eating, speaking or even smiling can be. Many sufferers will do anything to gain relief, even surgery. But before you go down that road, consider the traditional conservative approach to temporomandibular disorders (TMD) management first—it could provide the most relief with the least risk of side effects.
The temporomandibular joints connect the lower jaw to the skull on either side of the head. These ball and socket joints also contain a cushioning disk to facilitate movement. This disk is believed to be the primary focus for jaw pain problems known collectively as TMD.
Doctors now believe injury, stress, metabolic issues, jaw anatomy defects or similar factors trigger the chain reaction of muscle spasms, pain and soreness that can erupt during a TMD episode. A TMD patient may experience pain within the jaw muscles or joints themselves, clicking sensations, or an inability to open the jaw to its full range.
TMD therapy has traditionally followed an orthopedic path—treating jaw joints like any other joint. In recent years, though, a more aggressive treatment model has emerged that promotes more invasive techniques like orthodontics, dental work or jaw surgery to relieve discomfort. But the track record for this model, especially concerning jaw surgery, remains hazy at best and offers no guarantee of relief. These techniques are also irreversible and have even made symptoms worse in some patients.
It's usually prudent, then, to try conservative treatments first. This can include pain and muscle relaxant medication, jaw exercises, stretching and massage, and dietary changes to reduce chewing force. Patients with teeth grinding habits may also benefit from a bite guard worn at night to reduce the biting force during sleep and help the joints relax.
By finding the right mix of treatments, you may be able to find significant relief from TMD symptoms with the conservative approach. If not, you might then discuss more invasive options with your dentist. But even if your dentist recommends such a procedure, you would be wise to seek a second opinion.
TMD can definitely interfere with your quality of life and peace of mind. But there are ways to reduce its effects and make for a happier life.
If you would like more information on managing chronic jaw pain, please contact us or schedule an appointment for a consultation. You can also learn more about this topic by reading the Dear Doctor magazine article "Seeking Relief from TMD."
By Thomas Leatherman, DDS
August 20, 2016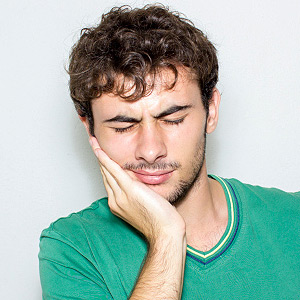 Accidents happen. And if an accident causes an injury to your jaws or surrounding facial area, it could result in serious damage. Without prompt treatment, that damage could be permanent.
You'll usually know, of course, if something is wrong from the extreme pain near or around a jaw joint that won't subside. If you have such symptoms, we need to see you as soon as possible to specifically diagnose the injury, which will in turn determine how we'll treat it.
This is important because there are a number of injury possibilities behind the pain. It could mean you've loosened or displaced one or more teeth. The joint and its connective muscle may also have been bruised resulting in swelling within the joint space or a dislocation of the condyle (the bone ball at the end of the jaw), either of which can be extremely painful.
These injuries also cause muscle spasms, the body's response for keeping the jaw from moving and incurring more damage (a natural splint, if you will). After examining to see that everything is functioning normally, we can usually treat it with mild to moderate anti-inflammatory drugs to reduce swelling and pain and muscle relaxers to ease the spasms. We may also need to gently manipulate and ease a dislocated jaw into its proper position.
In the worst case, though, you may actually have fractured the jaw bone. The most common break is known as a sub-condylar fracture that occurs just below the head of the joint with pain and discomfort usually more severe than what's experienced from tissue bruising or dislocation. As with other fractures, we'll need to reposition the broken bone and immobilize it until it's healed. This can be done by temporarily joining the upper and lower teeth together for several weeks to keep the jaw from moving, or with a surgical procedure for more severe breaks that stabilizes the jawbone independently.
It's important with any persistent jaw or mouth pain after an accident that you see us as soon as possible — you may have an injury that needs immediate attention for proper healing. At the very least, we can help alleviate the pain and discomfort until you're back to normal.
If you would like more information on treating jaw injuries, please contact us or schedule an appointment for a consultation. You can also learn more about this topic by reading the Dear Doctor magazine article "Jaw Pain — What's the Cause?"
By Thomas Leatherman, DDS
May 13, 2014
Chronic pain and reduced function of the jaw joints, muscles and other surrounding tissues is generally known as a temporo-mandibular joint disorder (TMJD or TMD). It's also possible that sufferers of TMD may also experience chronic pain in other parts of the body.
TMD affects from 10 million to 36 million American adults, mostly women of childbearing age. Although the exact causes are still elusive, most researchers believe this family of conditions arises from a combination of gender, genetic, environmental and behavioral factors. This may also hold the key to its connection with other painful conditions in the body.
About two-thirds of patients with some form of chronic jaw pain or disability also suffer from three or more similar medical conditions, including fibromyalgia, chronic fatigue syndrome, rheumatoid arthritis, headaches or sleep disturbances. Investigating the connections between these conditions is a fertile area for developing treatment strategies that would benefit all of these associated conditions.
In the meantime, there are both thermal and surgical treatments for alleviating and managing pain associated with TMD. About 90% of TMD patients respond well to thermal treatments, including hot and cold compresses applied to the jaw area and hot baths. Surgical treatment, however, has a mixed result: some studies show only a third of those undergoing surgical procedures experience noticeable pain relief and restored function and nearly half indicate worse symptoms after the surgery.
The best approach is to begin with an examination by your primary physician or specialist to be sure you are not suffering from a medical condition mimicking the symptoms of TMD. If this should eventually lead to a diagnosis of TMD, you should first try thermal techniques with over-the-counter pain relievers to ease the symptoms. A diet with softer foods that don't require strenuous chewing may also prove helpful.
If you receive a recommendation for extensive bite treatment or surgery, you should discuss this thoroughly with your dentist, or even seek a second opinion. Surgical treatments in particular are not reversible and the results may not be favorable.
For more information on TMD and networking opportunities with other patients, be sure to visit the TMJ Association (www.tmj.org) on the Web.
If you would like more information on chronic jaw pain, please contact us or schedule an appointment for a consultation. You can also learn more about this topic by reading the Dear Doctor magazine article "Chronic Jaw Pain and Associated Conditions."